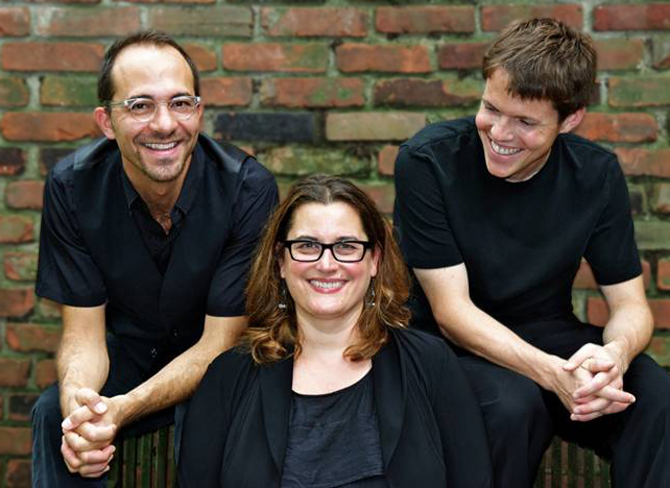 3pm, Sunday, March 24, 2013
Joshua Smith, flute
Jacob Nissly, percussion
Christina Dahl, piano
A program spanning the centuries with a captivating combination of sounds!!
BACH, Chaconne in D Minor, BWV 1004 – solo piano
GYÖRGY KURTÁG (b. 1926) Bagatelles, op. 14 – (flute, piano, percussion)
1. Furious Chorale
2. Homage to J. S. B.
3. Like the Flowers of the Field
4. Wild and Tame
5. Flowers We Are, Mere Flowers
6. The Girl with the Flaxen Hair, Enraged
CLAUDE DEBUSSY (1862 – 1918) Trois Chansons de Bilitis (flute and piano)
1. La flûte de Pan (The pan-pipes)
2. La Chevelure (The hair)
3. Le Tombeau des naïades (The tomb of the water-nymphs)
LOU HARRISON (1917 – 2003) Ariadne (flute and percussion)
1. Ariadne Abandoned
2. The Triumph of Ariadne and Dionysos
TORU TAKEMITSU (1930 – 1996) Air (solo flute)
IANNIS XENAKIS (1922 – 2001) Rebonds b (solo percussion_
LEON KIRCHNER (1919 – 2009) Five Pieces (solo piano)
KIRCHNER Flutings (flute and percussion)
ARVO PÄRT (b. 1935) Mozart-Adagio (flute, percussion, piano)
MEET THE ARTISTS:
Grammy-nominated flutist Joshua Smith joined The Cleveland Orchestra as Principal Flute in 1990. He's an avid chamber musician, with recurring residencies at the Marlboro and Santa Fe chamber music festivals, and is head of the flute department at The Cleveland Institute of Music. Joshua enjoys reading, cooking, traveling and playing at The Happy Dog.
Jacob Nissly joined The Cleveland Orchestra at the beginning of the 2011-12 season as Principal Percussion. Prior to coming to Cleveland, Mr. Nissly was the principal percussionist of the Detroit Symphony Orchestra for two seasons and also spent two years as a member of the New World Symphony in Miami Beach, FL. Mr. Nissly holds a bachelor of music and jazz studies degree from Northwestern University and a Master of Music from The Juilliard School.
Christina Dahl has been one of two piano faculty at Stony Brook University for many years, and serves as Director of Chamber Music, as well. She teaches at Yellow Barn and Icicle Creek Center for the Arts during the summer, when she's not hiking, reading, baking or trying to persuade her friends to play games. She has backpacked the entire John Muir Trail and ridden motorcycles with her husband to lovely spots around Ohio and the mountain South. With her friends in Ensemble HD, she's proud to be part of an upcoming release on vinyl of live chamber music from the Happy Dog.