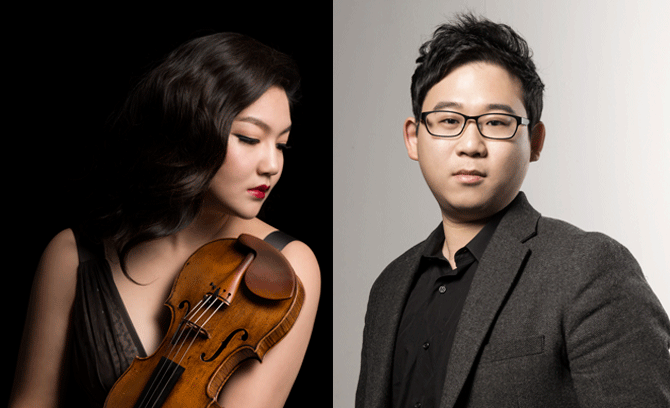 3pm, Sunday, April 23, 2017
Jinjoo Cho, violin / Hyun Soo Kim, piano & Friends
Music of Schulhoff, Britten and Dvořák
~ P R O G R A M ~
Sonata No. 2 for Violin & Piano (1927)
Erwin Schulhoff (1894 – 1942)
1. Allegro impetuoso
2. Andante
3. Burlesca. Allegretto
4. Allegro risoluto
Suite for Violin & Piano, Op. 6 (1935)
Benjamin Britten (1913 – 1976)
1. Introduction: Andante maestoso
2. March: Allegro alla marcia
3. Moto perpetuo: Allegro molto e con fuoco
4. Lullaby: Lento tranquillo
5. Waltz: Alla valse, vivace e rubato
~ I n t e r m i s s i o n ~
Piano Quintet No. 2 in A Major, Op. 81 (1887)
(formerly Op. 77)
Antonín Dvořák (1841 – 1904)
I. Allegro ma non tanto
II. Dumka: Andante con moto
III. Scherzo (Furiant): Molto vivace
IV. Finale: Allegro
Jinjoo Cho / Aaron Chan, violin
Eric Wong, viola / James Hettinga, cello
Hyun Soo Kim, piano
~ ABOUT THE ARTISTS ~
Critically acclaimed violinist Jinjoo Cho has established herself as one of the most vibrant, engaging and charismatic violinists of her generation. Gold Medalist of the 2014 Ninth Quadrennial International Violin Competition of Indianapolis, Jinjoo made her first appearance on the international music scene when she garnered the grand prize and Radio Canada's People's Choice Award at the 2006 Montréal International Musical Competition at age 17. Times Argus of Montréal proclaimed her performance of the Shostakovich Violin Concerto as possessing "an undeniable charisma and depth … with an intense lyricism and heartfelt tenderness that sent shivers up the spine." Since Montréal, she has won numerous international awards including First Prize and Orchestra Award at the 2010 Buenos Aires International Violin Competition, 2nd Laureate at the 2011 Isang Yun International Music Competition, Grand Prize at the Alice Schoenfeld International String Competition and the Dorothy DeLay Award at the Aspen Music Festival and School.
Jinjoo has concertized throughout North and South America, Asia and Europe, performing as soloist with such prestigious orchestras as The Cleveland Orchestra, Orchestre Symphonique de Montréal, Orchestre Symphonique de Québec, Seoul Philharmonic Orchestra, Orquesta Sinfónica Nacional (Argentina), and the Louisville Orchestra, among many others. She has been privileged to perform with renowned artists Kent Nagano, Peter Oundjian, Michael Stern, James Gaffigan, Robert McDuffie, Jaime Laredo, Sharon Robinson, Paul Neubauer, Roger Tapping and Anton Nel. Cho has appeared in international venues and festivals including Carnegie Hall, Severance Hall, the Herkulessaal of Munich, Teatro Colón of Buenos Aires, Seoul Arts Center, Aspen Music Festival, Schwetzingen SWR Festspiele, Festival de Lanaudière, Chamberfest Cleveland, Kentucky Center for the Performing Arts, Seoul Spring Chamber Music Festival and Tongyeong International Music Festival.
Cho's greatest passion is arts education and audience engagement. She founded ENCORE Chamber Music, a program for high school and college students held on the campus of Gilmore Academy in Gates Mills, Ohio. Summer 2016 was the inaugural ENCORE season. She also produces Classical Revolution Korea, a program where musicians travel throughout Korea giving free concerts and meeting audiences. An advocate for community outreach and education, Cho has given master classes, presented showcases and delivered lecture recitals at over 100 venues. Her ties to the Cleveland community are especially strong. She performs often for local organizations such as Arts Renaissance Tremont, Beachwood Arts Council, Cleveland Women's Orchestra, Cleveland Clinic, Tuesday Musical Association of Akron, CityMusic Cleveland, Trinity Cathedral Music & Arts and others.
Born in Seoul, South Korea, Cho moved to Cleveland at age 14 to study with Paul Kantor at the Cleveland Institute of Music. Within a few years of her arrival in the U.S., she had won most of the local competitions for high school and college-level students, including the Cleveland Orchestra Youth Orchestra and CIM concerto competitions. Jinjoo continued her violin studies with renowned artist/teacher Jaime Laredo. She is currently on the violin faculty of the Cleveland Institute of Music and Oberlin Conservatory.
Pianist Hyun Soo Kim has performed extensively throughout the United States, Canada, Europe and South Korea. A much sought-after collaborative artist, Mr. Kim has performed with eminent artists such as Jaime Laredo, Sharon Robinson, members of The Cleveland, Philadelphia and Minnesota Orchestras, Kansas City, Houston, Colorado and Baltimore Symphonies, and the Cavani and Miami Quartets. He is a frequent recital partner of violinist Jinjoo Cho and violist Yu Jin, in addition to numerous talented young Greater Cleveland musicians, performing over 50 recitals annually.
Concerts have brought him to such venues as Carnegie Hall's Stern Auditorium, Merkin Hall (NYC), Chicago Cultural Center, Dallas City Performance Hall, Rolston Hall (Banff Centre), Auer Hall (Indiana University), Olin Hall (Bard College), Kumho Arts Hall and Seoul Arts Center. Chamber Music series on which he has appeared include La Jolla Music Society, Myra Hess Memorial Concerts, Chamber Music International (Dallas), Hudson Valley Chamber Circle, Indiana University's Summer String Academy, Indianapolis Violin Competition Laureate Series, Linton Chamber Music (Cincinnati), Tuesday Musical Association's Kulas Concert Series (Akron) and Big Arts Sanibel Island (Florida), Brattleboro Music Center (Vermont), Mercyhurst University Roche Visiting Artists Series, The Musical Arts Series (Port Clinton), Music from the Western Reserve (Hudson, OH), College of Wooster Chamber Music Series and Tri-Institutional Noon Recitals at Rockefeller University (NYC) and Arts Renaissance Tremont (Cleveland).
A native of South Korea, Mr. Kim is a graduate of the Cleveland Institute of Music and University of Delaware, where he studied with Anita Pontremoli and Christine Delbeau. He received the John D. Martini Scholarship (University of Delaware) and the Rosa Lobe Collaborative Piano Award (Cleveland Institute of Music). Hyun Soo is currently on the Collaborative Piano Staff at CIM and Kent State University. He is admissions director for ENCORE Chamber Music and is on the collaborative piano faculty. In 2017, he will join the Texas String Camp and Festival (Austin) as a collaborative pianist.
Aaron Chan, violin, is a native of Hong Kong. He is currently a sophomore studying at the Cleveland Institute of Music with Stephen Rose (Cleveland Orchestra Principal 2nd Violin) and Jinjoo Cho. A passionate musician, Chan loves to play chamber music and also enjoys performing as a soloist. Chan would eventually like to become a professional soloist and chamber musician for his career.
Celebrated for a "tone like toasted caramel. Amazing." (Musical Toronto), Eric Wong is the violist of the Cavani Quartet, ensemble-in-residence at the Cleveland Institute of Music (CIM). He was also a member of the JUNO-nominated Afiara Quartet and the Linden String Quartet, first prizewinners of the Fischoff, Coleman and Concert Artist Guild competitions. He received both Bachelor and Master of Music degrees from the CIM, studying violin with Paul Kantor and viola with Kirsten Docter and Lynne Ramsey. Other coaches and mentors include Peter Salaff and the Cavani and Tokyo Quartets. In addition to performing and educating around the globe, Mr. Wong is also active in collaborating with directors of several up-and-coming chamber music festivals including the Geneva Music Festival (genevamusicfestival.com) and the humanitarian initiative "Music Feeds Us" (musicfeedsus.org). Off the clock, Mr. Wong enjoys cooking and classic television.
James Hettinga is from Elyria, Ohio, and began studying the cello when he was 4 years old. His early desire to play cello is a result of listening to recordings being played by his older siblings, who all played the violin. He finds great joy performing alone, and with his 7 siblings – all string players. James has won numerous competitions including the Cleveland Cello Society Scholarship Competition (Junior and Senior divisions), and the Duquesne Young Artist National Competition – Solo Strings Division. He is a member of the Cleveland Orchestra Youth Orchestra (COYO) and many other ensembles. One ensemble, the Cecilia Octet, appeared this past spring on the popular national radio show, From the Top, America's largest national platform celebrating the stories, talents and character of young classically-trained musicians. James is in the Cleveland Institute of Music Young Artist Program, studying with Dr. Melissa Kraut. James loves to sing, play guitar and viola da gamba, as well as play golf and ultimate frisbee.