24th Season
3pm, Sunday, September 28, 2014
Madeline Lucas, flute
Drew Sullivan, clarinet
Tara Lynn Ramsey, violin
Sophie Benn, cello
Shuai Wang, director / piano

Performing works of Stravinsky, Halvorsen, Tower, Lang and Harbison.
---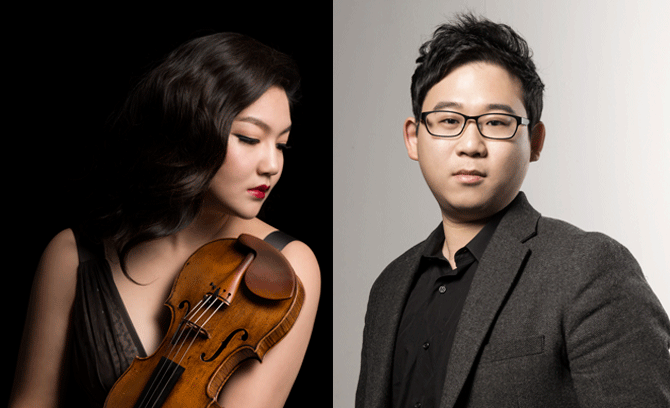 3pm, Sunday, October 19, 2014
Jinjoo Cho, violin & HyunSoo Kim, piano
with Yu Jin, viola / Keith Robinson, cello
Music of Fauré, Mendelssohn & Schumann; Schumann E-flat Major Piano Quartet, Op. 47
---
3pm, Sunday, November 23, 2014
Members of The Cleveland Orchestra bass section
Alicja Basinska, piano
Program includes music of Bach, Brahms, Glière, Griebling-Haigh, Hindemith, Schumann and others.
---
7pm, Monday, December 22, 2014
Burning River Brass
A Tremont Holiday Tradition!
---
3pm, Sunday, February 15, 2015
Amici String Quartet
Takako Masame, Miho Hashizume, violin
Lynne Ramsey, viola
Ralph Curry, cello
2pm concert preview with Donald Rosenberg & Amici Quartet
All Beethoven concert!

---
3pm, Sunday, March 22, 2015
Bach Birthday Celebration (330th)
---
3pm, Sunday, April 19, 2015
Richard King, horn / Chul-In Park, violin
Randall Fusco, piano
P R O G R A M
J. S. Bach (1685 – 1750): Gamba Sonata No. 1 in G Major, BWV 1027
Sir Lennox Berkeley (1903 – 1989): Trio for Horn, Violin and Piano, Op. 44
York Bowen (1884 – 1961): Sonata for Horn & Piano in E-flat Major, Op. 101
Paul Leary (b.1974): Horn Sonata (2002/2003)
---
3pm, Sunday, May 17, 2015
Shaker Heights High School
A Cappella Choirs and A Cappella Ensembles
Dr. Robert Schneider, Director
Program includes music of Mozart, Mendelssohn, Chilcott, Lauridsen, Papoulis, Hogan and Runestad
---
7pm, Wednesday, May 27, 2015
BRB – It's not just for Christmas anymore! Let BURNING RIVER BRASS welcome in SPRING!
Don't miss this opportunity to hear BRB perform the music you love – Mozart, Brahms, Debussy, Prokofiev and the sounds of the Renaissance as only Burning River Brass can play.